On February 28, the IBS Center for Climate Physics (ICCP) was awarded a commendation from the Ministry of Science and ICT (MSIT) at the Meeting for Research Accomplishments and PR hosted by the Ministry.
The meeting was held to commend government funded researchers who not only excelled in their field, but also made efforts to promote their achievements. This year, seven researchers who published and promoted research achievements in 2019 were awarded the commendation, including researchers from IBS, Seoul National University, UNIST and Korea Astronomy and Space Science Institute, among others.
Axel Timmermann, Director of ICCP, in collaboration with an international research team has revealed for the first time that humans originated from specific areas of southern Africa and their first ever migration was due to climate change. This research result was published in Nature in Oct. 2019, was presented in a Ministry briefing, and has been reported in over 250 newspapers and online news websites tracked by Altmetric.
SHIM Shibo, Head of Division of Policy and Planning in IBS, received the award on behalf of Director Timmermann who could not attend the event due to precautions against the spread of COVID-19.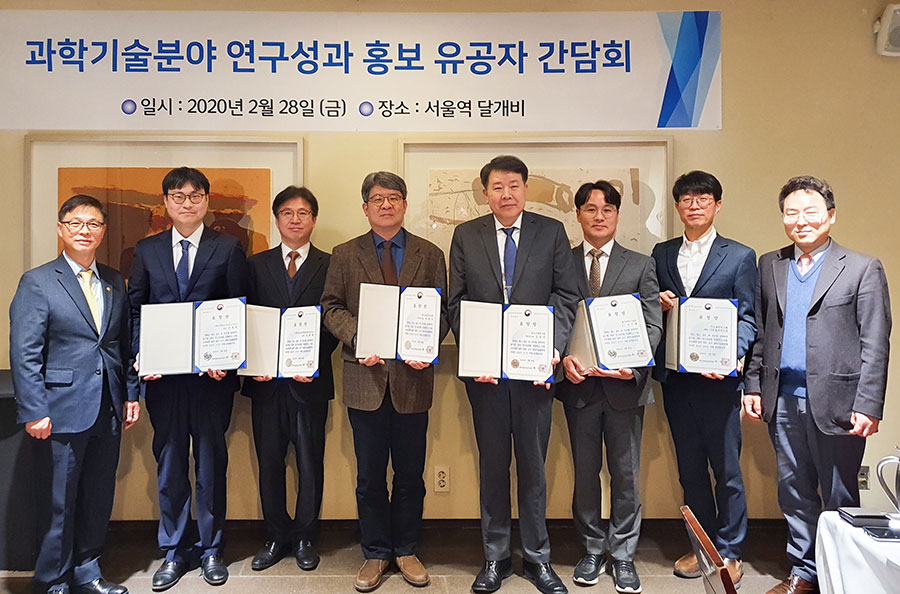 ▲ From the right, GOH Seo-gon (MSIT Director of R&D Policy Bureau), SHIM Shibo (IBS Head of Division of Policy and Planning), Prof. KIM Guntae (UNIST), Dr. KIM Yong-jin (Korea Institute of Machinery and Materials), Dr. MOON Hong-gyu (Korea Astronomy and Space Science Institute), Dr. YOU Bum Jae (Korea Institute of Science and Technology), Dr. JUNG Seunghwan (Biocon), and Jeong Byungseon (MSIT 1st Vice Minister).