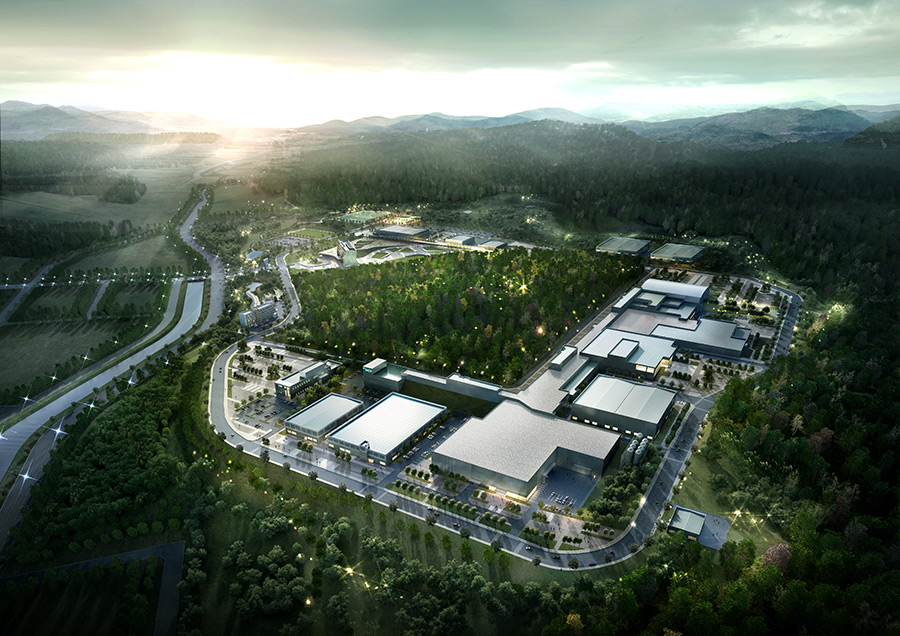 What is RAON?
RAON, the name of the heavy-ion accelerator, is a Korean word meaning "Happy" or "Joyful".
A Key research facility of the Institute for Basic Science(IBS), the Rare Isotope Science Project(RISP) is intended to realize the key infrastructure of next-generation research on basic sciences in Korea.
The heavy-ion accelerating facility plays an important role in diverse global level research fields including the exploration of the origins of chemical elements, the discovery of and structural study of new isotopes, research on new materials using rare isotopes, and applied medical research. The research results of such basic and applied fields using the heavy-ion accelerator will contribute to the achievement of the important national agenda of Korea to join the club of nations advanced in basic research, such as the U.S, the EU, and Japan.
For the successful construction of a world-class and hi-tech heavy-ion accelerator, the RISP is pursuing a systematic and scientifically detailed design process by reviewing the technical and comprehensive validity of the conceptual design. The RISP also is endeavoring to create an efficient environment for the construction of the accelerator by preparing organic cooperative systems at home and abroad with expert training support systems.
As a major rare isotope heavy-ion accelerator, RAON will provide world-class high-strength and high-performance rare isotope beams and produce outstanding research results in basic scientific studies and applied scientific developments that make use of these beams, thus leading global research.
Construction Plan
RAON, Planned in the Global Context
Since its planning stage, RAON has been designed and constructed in a global context, taking into account the opportunities that lie outside Korea, with a focus on a globally open access facility with international participants and contribution rather than on a national facility. RAON will support forefront international research program and these international usages of the facility will be considered to optimize global nuclear science program.
RAON, Tools of Nuclear Physics and Rare Isotope Science
Most of investigation of the structures of nucleons and nuclei involve the use of accelerators that generate high energy beams of particles which strike targets or collide with each other.
RAON uses heavy ions or heavy elements such as helium, uranium, or carbon element that are heavier than hydrogen. When the heavy-ions travel near the speed of light and collide with their targets, rare isotopes (elements with the same number of protons but a different number of neutrons) are obtained. At this stage, femtometer - a metric unit of length equal to one quadrillionth of a meter - can be studied at the same time.
Milestone of RAON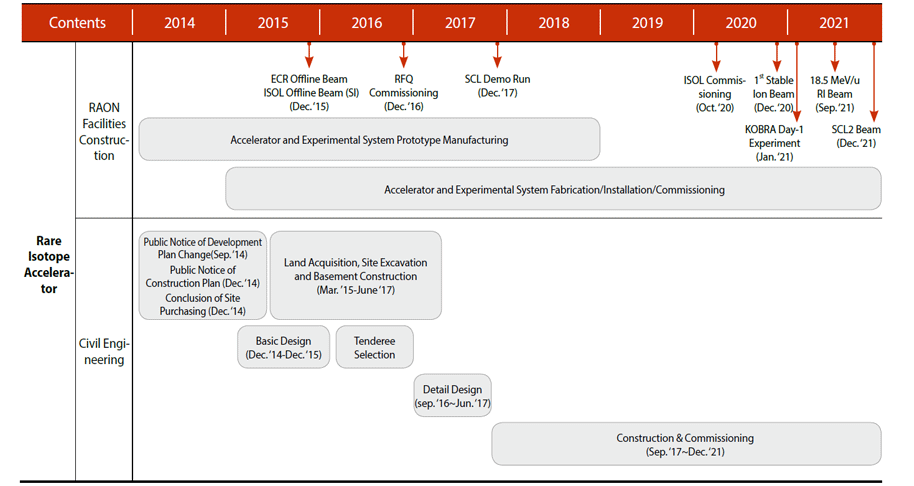 * Above dates may change during progress. [Sources : Master plan of Rare Isotope Science Project in 2015]