Special Meeting with a Nobel Laureate
Professor William Kaelin, winner of the 2019 Nobel Prize in Physiology or Medicine, visiting IBS Center and UNIST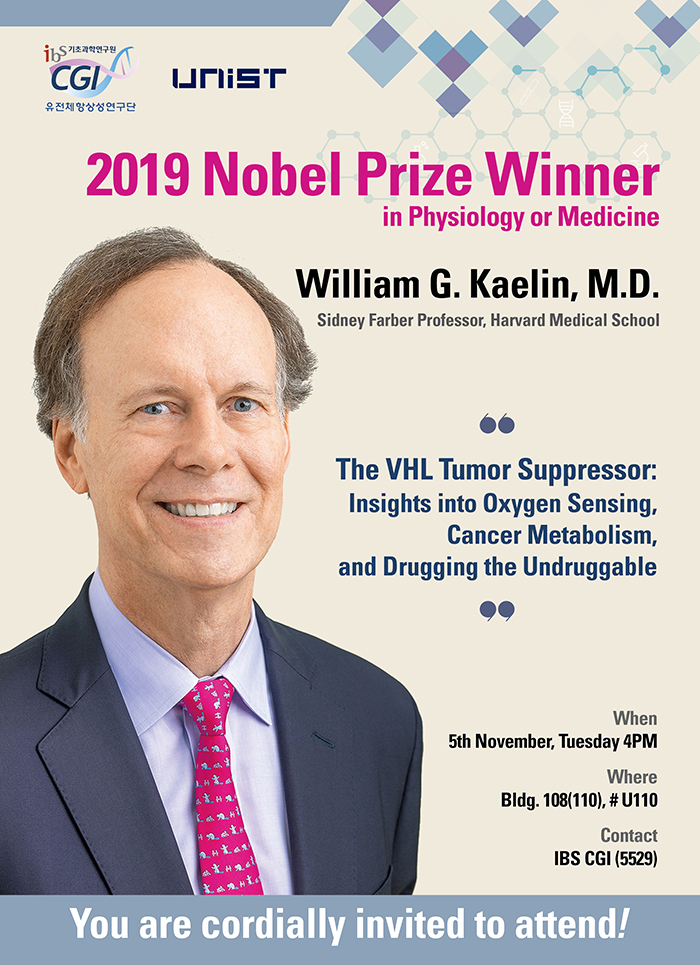 This year's Nobel laureate will meet researchers of the Institute for Basic Science (IBS). IBS and Ulsan National Institute of Science and Technology (UNIST) have invited William G. Kaelin Jr., professor of medicine at Harvard Medical School and one of the winners of the 2019 Nobel Prize in Physiology or Medicine. The professor's seminar will be held on Tuesday November 5 at the IBS Center for Genomic Integrity (Director Kyungjae Myung) located at UNIST.
Professors Kaelin, Peter J. Ratcliffe of Oxford University, and Gregg L. Semenza of Johns Hopkins University shared the 2019 Prize for deciphering how cells sense and adapt to changes in oxygen availability. Their discovery of how cells respond in low-oxygen environments was recognized to have paved the way for new treatments for cancer, anemia, and other diseases.
Kaelin will give a lecture for students from 4pm at Room 110, Natural Science Building (108), UNIST. Then, he and around 20 IBS researchers and students will have an in-depth discussion on research.
The Nobel laureate will also have a meeting with Director Myung and other principal researchers to seek a way to conduct joint research. The primary research focus of the Center for Genomic Integrity is on investigating DNA repair pathways that sense DNA damage, transduce that information, and repair damaged DNA.
"We expect that by meeting a Nobel laureate who has been recognized as the top scholar in his field, students will be motivated to define their vision as scientists and to carry out constructive research," Director Myung said. "If joint research takes place, it could provide a solution to the greatest health-related concerns of human beings, including cancer and aging, by identifying a DNA repair mechanism in low-oxygen conditions."