Yoonsu Park of the IBS Center for Catalytic Hydrocarbon Functionalizations, Puts His Name on the Map
- Selected as a rising star of chemistry to watch in 2019 by the ACS and Elsevier -
Yoonsu Park of the Center for Catalytic Hydrocarbon Functionalizations within the Institute for Basic Science has drawn the attention of the world's science community as being consecutively selected as an up-and-coming chemist. Park has been recently nominated as one of promising early-career researchers by the American Chemical Society (ACS) and the Elsevier, the world's biggest publisher of academic research.
Dr. Park was named as one of finalists of 2019 CAS Future Leaders on May 15. CAS is a division of ACS. Marking the 10th anniversary, CAS Future Leaders program aims to expand the professional networks of outstanding PhD students and postdoctoral researchers from around the world who are shaping the future of scientific information and innovation. Dr. Park is one of the 29 finalists and the only awardee from South Korea.
Dr. Park also put his name on the finalists' list of 2019 Reaxys PhD Prize. (announced on July 30) The prize is known for being awarded to the best of the best early-career scientists. The 45 finalists are invited to the Reaxys PhD Prize Symposium and participate in special events and presentations of their research. The finalists receive lifelong membership in the Reaxys Prize Club, an exclusive international network of chemists from all research areas and career paths.
"We are extremely happy to see the Reaxys PhD Prize established again" said Dr. Friedrich Kroll, co-organizer of the competition. "It is so important that young innovative researchers of different disciplines are gathering to celebrate their achievements, are supported in establishing networks to address current scientific challenges—often solvable by working across disciplines."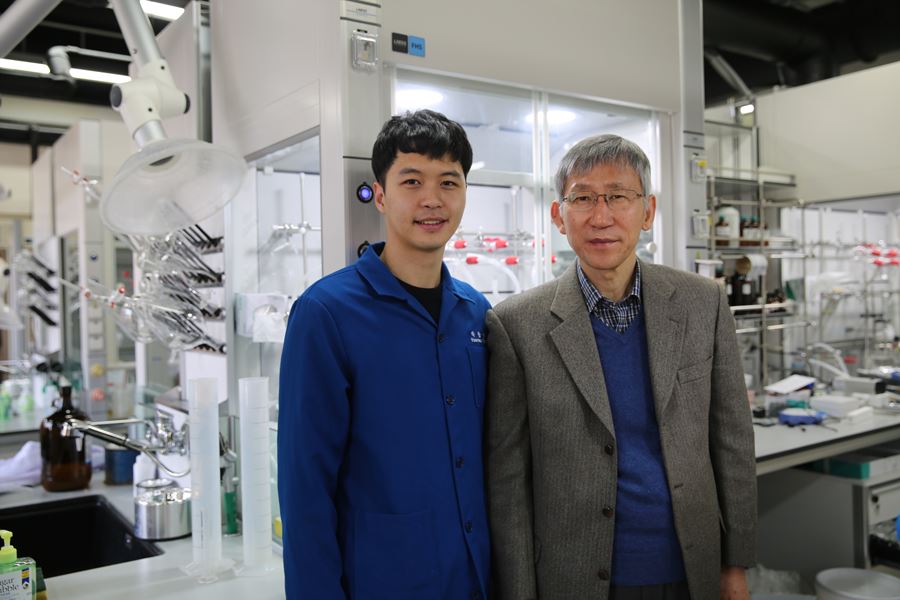 ▲ Dr. Yoonsu Park (left) with his supervisor, Professor Sukbok Chang
Dr. Park obtained his bachelor's degree in 2014 at KAIST and completed his Ph.D. in 2019 under the supervision of Professor Sukbok Chang and jointly with Professor Mu-Hyun Baik at the same university. His interest of research is physical organic approaches to efficient C-H amidation reactions with new transition-metal catalysts. He is currently a postdoctoral researcher at the Institute for Basic Science (IBS) and KAIST.


▲ Dr. Park's profile at the 2019 CAS Future Leaders webpage (Credit: CAS Future Leaders)
Dr. Park's recent work (Science, March 2018) reported a novel strategy to synthesize ring-shaped cyclic molecules, highly sought-after by pharmaceutical and chemical industries, and known as gamma-lactams. This study describes how these five-membered rings can be prepared from inexpensive and readily available feedstock hydrocarbons, as well as from complex organic molecules, such as amino acids and steroids. Gamma-lactams find several applications in medicinal, synthetic, and material chemistry. In addition, his latest paper (Nature Catalysis, February 2019) presented a group of new chiral iridium catalysts for the selective synthesis of chiral lactams. Though lactams are key building blocks in many pharmaceutical agents, for example penicillin – a notable lactam-based antibiotic, there have been few efficient ways to single out only one molecule from a pair of the symmetric mirror images. The new catalysts allowed the researchers to bias synthesis in favor of producing one product over the other with 99 percent selectivity. These achievements are among 11 research papers he has published during the last five-year doctoral studies.
"Thanks to Professor Chang and Baik's great leadership and IBS's guarantee for research continuity, I have been able to fully focus on my research. I will continue to explore ways to lower the price of useful, but not readily available catalysts due to their pricey production cost," said Dr. Park.