The Center for Underground Physics (CUP) of the Institute for Basic Science (IBS) has kicked off construction of the Yemi Lab, an astro-particle research facility, located underground Mount Yemi in Jengseon County, Gangwon Province.
The Yemi Lab will be located 1,100 meters underground with a gross area of 2,000 square meters, which is 400 meters deeper and 10 times larger than CUP's existing YangYang Laboratory (Y2L). The new facility aims to understand dark matter and measure the mass and investigate the basic properties of the so-called the ghost particle, neutrino.
Detecting dark matter and measuring the mass of neutrinos are the key challenges in understanding the creation of the universe and its composition. Detecting the signals of these mysterious materials, however, requires a very sensitive environment where any interfering background noise, such as cosmic rays, has to be eliminated. The deeper a laboratory is placed, the less interruptions from outside can interfere. The Yemi Lab makes a better environment for capturing the very weak signals that researchers want to study. When completed, it will be the first deep underground research facility*in South Korea.
* Refers to a research facility located more than 1,000 meters underground.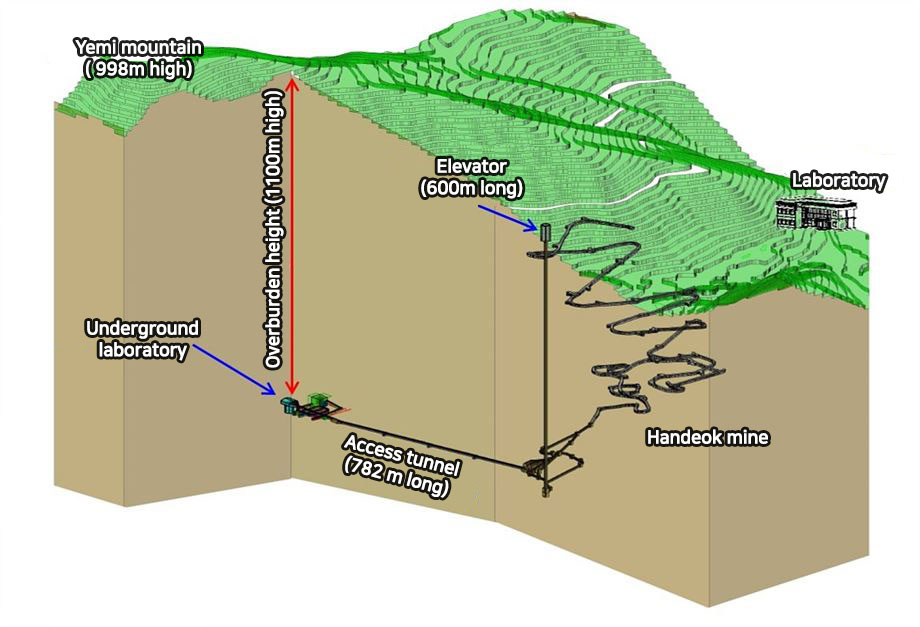 ▲ When completed, the Yemi Lab will be the first deep underground (more than 1,000 meters underground) research facility*in South Korea.
CUP expects to complete the construction of Yemi Lab by the end of 2020 and looks forward to unlock the mysteries of the universe through dark matter and neutrino experiments from early 2021. The Yemi Lab will also open the door to the wider research community for large scale, multidisciplinary research collaborations.