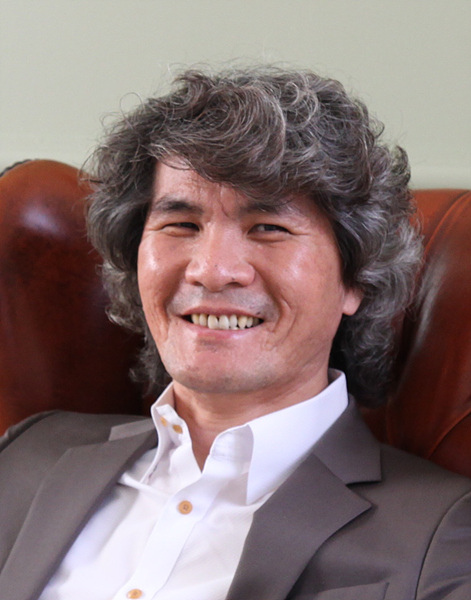 ▲ Dr. LEE Changjoon Justin
Director of the Center for Glia-Neuron Interaction in the Korea Institute of Science and Technology (KIST), LEE Changjoon Justin has been appointed as a co-director of the Center for Cognition and Sociality. His research unit, the Cognitive Glioscience Group, embarked on their research on November 1st.
Director Lee is known as one of top scientists in the field of glioscience. Among a variety of subtypes of glial cells (non-neuronal cells), astrocytes are now recognized as the principal homeostatic cells of the central nervous systems. When brain science was deemed only pertaining to neuroscience, astrocytes were thought to be little more than housekeepers that ensured neurons could function properly. Astrocytes were originally thought to play secondary roles, such as controlling ionic levels and eliminating neurons' waste. Despite such circumstances, he kept investigating astrocytes' unexplored critical roles.
His tenacious efforts in the end paid off with a series of research achievements. In 2010, his research group discovered that gamma-aminobutyric acid (GABA), an inhibitory neurotransmitter, is synthesized and released from astrocytes. This astrocytic GABA release mechanism replaced the formerly held belief that only neurons could synthesize and release neurotransmitters. In 2012, his group further demonstrated the channel-mediated release mechanism of the major excitatory transmitter glutamate from astrocytes, raising the unique possibility that astrocytes are capable of synthesizing and releasing the two major transmitters in the brain: glutamate and GABA. Notably, Director Lee and his research group discovered that excessive GABA from reactive astrocytes impairs memory in mouse models of Alzheimer's disease in 2014. They revealed for the first time that astrocytes, like neurons, play a major role in cognitive processes. Such discovery allowed Lee's research group to license its findings related to novel Alzheimer's disease drug so they could be used for medical trials.
"It is just recently that we began to understand the functions of astrocytes and their significance in cognitive processes despite the fact that they account for as much as 70-90% of the brain," Lee says. "I believe our efforts to unveil the molecular mechanisms hidden behind astrocytes, as well as memory loss and Alzheimer's disease, will further the wellbeing of humanity," he notes.
Director Lee plans to utilize IBS HQ's research infrastructures and the Center's advanced optogenetics in order to focus on four research areas: molecular glioscience, glia-neuron interaction, glial plasticity (the ability of the brain to reorganize itself throughout one's life due to the environment, one's behavior, thinking, and emotions) and cognition, and gliopathy (pathophysiological role of reactive glia). He also expressed his enthusiasm to foster young scientists, saying "My experience of establishing and running the UST Neuroscience program at KIST will help me establish a rigorous educational program and train young brain scientists at IBS in the future."
"Dr. Lee joining the IBS Center for Cognition and Sociality will greatly enhance its competitiveness in brain science," says IBS President Doochul Kim.