- In recognition of his contribution to neuronal synapses and mental disorders research -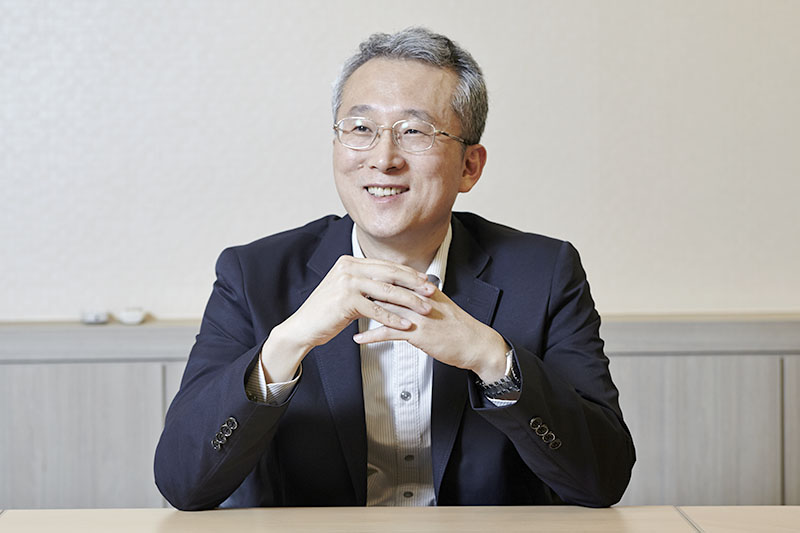 ▲ Director KIM Eunjoon of the IBS Center for Synaptic Brain Dysfunctions is
broadening the understanding of normal brain functions and
identifying causes of brain disorders by conducting research on synaptic adhesion proteins.
Director KIM Eunjoon of the IBS Center for Synaptic Brain Dysfunctions was honored with the 11th ASAN Award in Basic Medicine by ASAN Foundation (Chairman CHUNG Mong-Joon). Director Kim is expected to deepen the understanding of causes of mental disorders and contribute to the future development of medicine by studying the link between synaptic proteins and brain dysfunctions.
In 1995, Director Kim was the first in the world to demonstrate the principles behind the formation and functions of synapses, which connect neurons in the brain. He discovered in 2011 that attention deficit hyperactivity disorder (ADHD) was caused by synaptic protein deficiency in the brain. Another major finding he achieved was that an excessive increase of certain neurotransmitter receptors could cause difficulties in social communication and interaction experienced by patients with some mental disorders, such as autism and schizophrenia.
ASAN Award in Medicine was established in 2007 by the ASAN Foundation to discover and encourage medical scientists who have achieved remarkable accomplishments in the fields of basic and clinical medicine. The 11th ASAN Award winners were selected by a review committee which was established in June 2017 to ensure a comprehensive evaluation taking into account research consistency and creativity, domestic and international impact, contribution to medical development, and nurturing of future scientists.
Aside from Director KIM Eunjoon of IBS, Professor BANG Yung-Jue (64) of the Medical Oncology, Department of Internal Medicine at Seoul National University was chosen as the winner of ASAN Award in Clinical Medicine. Associate Professor KIM Ho Min (40) of the Graduate School of Medical Science and Engineering at the Korea Advanced Institute of Science and Technology (KAIST) and Assistant Clinical Professor KIM Beom Kyung (40) of the Division of Gastroenterology, Department of Internal Medicine at Yonsei University College of Medicine were honored with the ASAN Award for Young Medical Scientists.
The 11th ASAN Award in Medicine ceremony will be held in the Grand Ballroom of Grand Hyatt Seoul at 6pm on Wednesday, March 21, 2018. Basic and Clinical Medicine winners will receive KRW 300 million each in prize and those selected as Young Medical Scientists will be given KRW 50 million each.