- Serving as a forum for sharing and discussing major issues of Centers for a better IBS -
The Institute for Basic Science (IBS) held the 9th Directors Council Meeting at its headquarters in Daejeon on May 26. The purpose of the meeting is to communicate and address issues of concern regarding scientific research and the general operational direction of IBS.
IBS President KIM Doochul, directors, and the IBS HQ division and team heads shared follow-up measures from the 8th meeting. Main agenda items of the recent meeting included the evaluation and selection schedule of associate directors, Career Development Award operation plan, and plans to improve Center's operation system.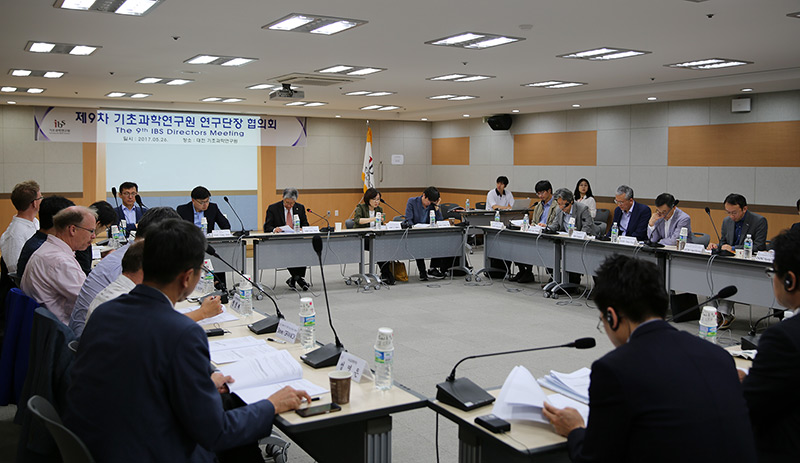 President Kim presented what measures have been taken following the 8th meeting: revising regulations regarding resignation procedure and the reporting process for business trips, supporting new Center's IBS Conferences, improving support to attract excellent scientists, and specifying an IBS policy of lecture fees for consultants.
Director Yannis K. Semertzidis of the Center for Axion and Precision Physics Research introduced the Korea Undergraduate/graduate/high school Science Program (KUSP). KUSP offers excellent research opportunities to talented undergraduate, graduate, or high school students in physics. The program has been running since 2015 and deemed to be a successful outreach program. Many IBS directors showed keen interest in KUSP as it is expected to help foster competent scientists in experimental physics.
There was also an in-depth discussion on how to bring talented young scientists to IBS Centers. It was highlighted that attracting young scientists to IBS Centers will go a long way for strengthening a sustainable research collaboration network.
IBS HQ showed its strong commitment to putting in place an official communication service that will address chronically recurring issues of Centers in order to make a better IBS. "The IBS Directors Council Meeting signifies the importance of a forum for exchanging ideas on IBS' future direction," says President Kim. The next IBS Directors Council Meeting will be held on August 24 to 25.