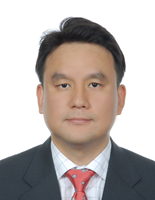 ▲ Associate Director JO Moon-Ho Won
Associate Director JO Moon-Ho (Professor of Materials Science and Engineering at POSTECH) of the Center for Artificial Low Dimensional Electronic Systems at IBS, received the LS Academic Award at the Spring Conference of the Korean Institute of Metals and Materials (KIM) on April 27.
LS Academic Award was established in 2012 to recognize members of KIM who have produced remarkable research outcomes in metals and materials engineering and contributed greatly to relevant industries. KIM explained that Associate Director JO Moon-Ho has made great contribution not only to the research field but also to the development of academia and industry in nanomaterials and nanodevices.
He has conducted creative research including nano optoelectronic materials synthesis and new nanodevices development. In 2015, he increased the possibility of developing high-performance 2D optoelectronic devices by synthesizing two different 2D materials to identify new optical characteristics. The technology to manipulate the optical characteristics of 2D materials can lead to a variety of high-performance optoelectronic device applications, such as 2D luminaires, lasers, and photodetectors. Three of his research papers were published in the leading scientific journal Nature Communications in 2016.