- Three proteins regulate the accumulation of oxygen free radicals in plants' leaves controlling their aging and death -
Every fall, when leaves change color and die, a highly regulated and partly elusive mechanism is taking place. Scientists at the Center for Plant Aging Research, within the Institute for Basic Science (IBS, South Korea), revealed how three proteins control plants' aging by modulating the accumulation of reactive oxygen species (ROS), or oxygen free radicals.
Receptor Protein Kinase 1 (RPK1) controls aging. When the rpki1 gene is removed from Arabidopsis thaliana plants, the leaves remain green for a longer time, and vice versa, overexpression of this gene results in accelerated aging. IBS scientists revealed how RPK1 is part of a trio of proteins: RPK1-CaM4-RbohF, that has a role in plants'senescence. More specifically, RPK1 binds to a calcium binding protein CaM4, and then CaM4 associates with ROS-generating enzyme NADPH oxidase RbohF. In other words, the trio works together to increase the production of oxygen molecules that are highly reactive. While the RPK1-CaM4-RbohF trio operates at the cellular membrane, ROS enter the cell and promote the expression of genes involved in senescence and cell death.


▲ Figure 1: Aging regulation and superoxide production of Arabidopsis leaves.A)Plants without RPK1 (rpk1) show delayed aging compared with the natural plant (wt). The trypan blue (TB) dye visualizes cell death in blue, in parallel nitrobluetetrazolium (NBT) and 3,3-diaminobenzidine (DAB) stain superoxide and H2O2, respectively. These reactive oxygen species accumulate as the plant ages.
B) Plants engineered to produce RPK1 in the presence of methoxyfenozide (MOF), iRPK1, age quicker than the controls. Scale bars are 1 cm long.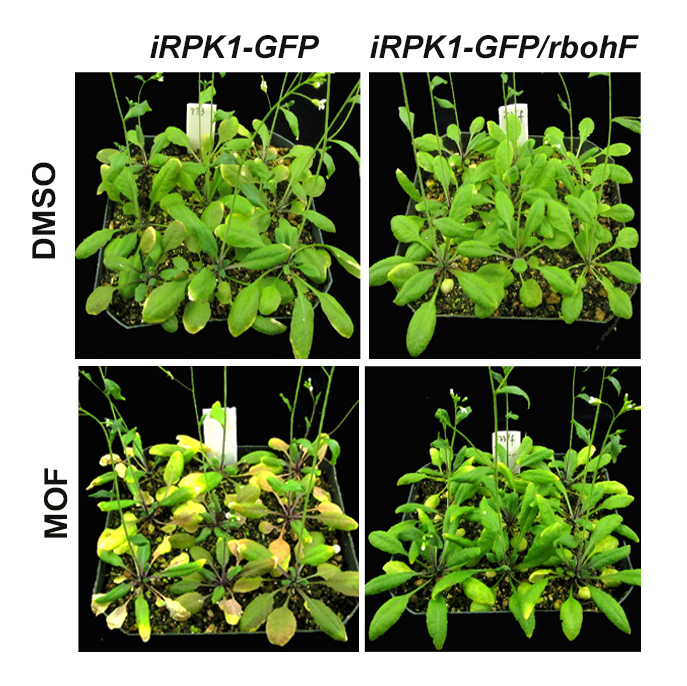 ▲ Figure 2: RbohF and RPK1 work together in plant aging.Plants engineered to have RPK1 that is activated in the presence of MOF (methoxyfenozide) turn yellow, as a sign of aging. However, when the RbohF gene is removed (right, iRPK1-GFP/rbohF) the process is slowed down.
Previous studies have shown that RPK1 is involved in plants' stress response. Thus, the current results could provide a link on how environmental stress response is connected to plant aging at the molecular level. In the future, the scientists hope to discover exactly what activates RPK1.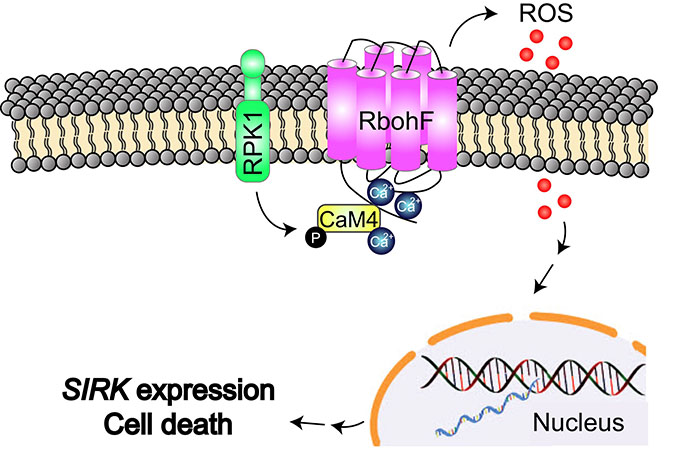 ▲ Figure 3: Molecular process revealed in this study.Regulation of plant senescence is mediated by reactive oxygen species (ROS), and involves a trio of proteins on the cellular membrane: Receptor Protein Kinase 1 (RPK1), calcium binding protein (CaM4) and a protein that generates ROS (RbohF). RPK1 phosphorylates CaM4, which in turn binds to RbohF to regulate ROS production. ROS produced by the protein trio are transferred into the cell and promote the expression of genes involved in senescence and cell death.
Letizia Diamante
Notes for editors
- References
Ja Choon Koo, In Chul Lee, Cheng Dai, Yuree Lee, Hui Kyung Cho, Yumi Kim, Bong-Kwan Phee, Hyunmin Kim, Il Hwan Lee, Seung Hee Choi, Su Jin Park, In Seon Jeon, Hong Gil Nam and June M. Kwak. Protein trio, RPK1–1 CaM4–RbohF, mediates transient superoxide production to trigger age-dependent cell death in Arabidopsis. Cell reports (2017). DOI:
- Media Contact
For further information or to request media assistance, please contact: Mr. Shi Bo Shim, Head of Department of Communications, Institute for Basic Science (+82-42-878-8189, sibo@ibs.re.kr); Mr. Jung Gyu Kim, Global Officer, Department of Communications, Institute for Basic Science (+82-42-878-8172, jungkki1@ibs.re.kr); or Dr. Letizia Diamante, Science Writer and Visual Producer (+82-42-878-8260, letizia@ibs.re.kr).
- About the Institute for Basic Science (IBS)
IBS was founded in 2011 by the government of the Republic of Korea with the sole purpose of driving forward the development of basic science in South Korea. IBS has launched 28 research centers as of January 2017. There are nine physics, one mathematics, six chemistry, eight life science, one earth science and three interdisciplinary research centers.