<Second story>
"After serving at various institutions in North America and Europe, I decided to join IBS because of the stable research environment it provides and the passion of its researchers."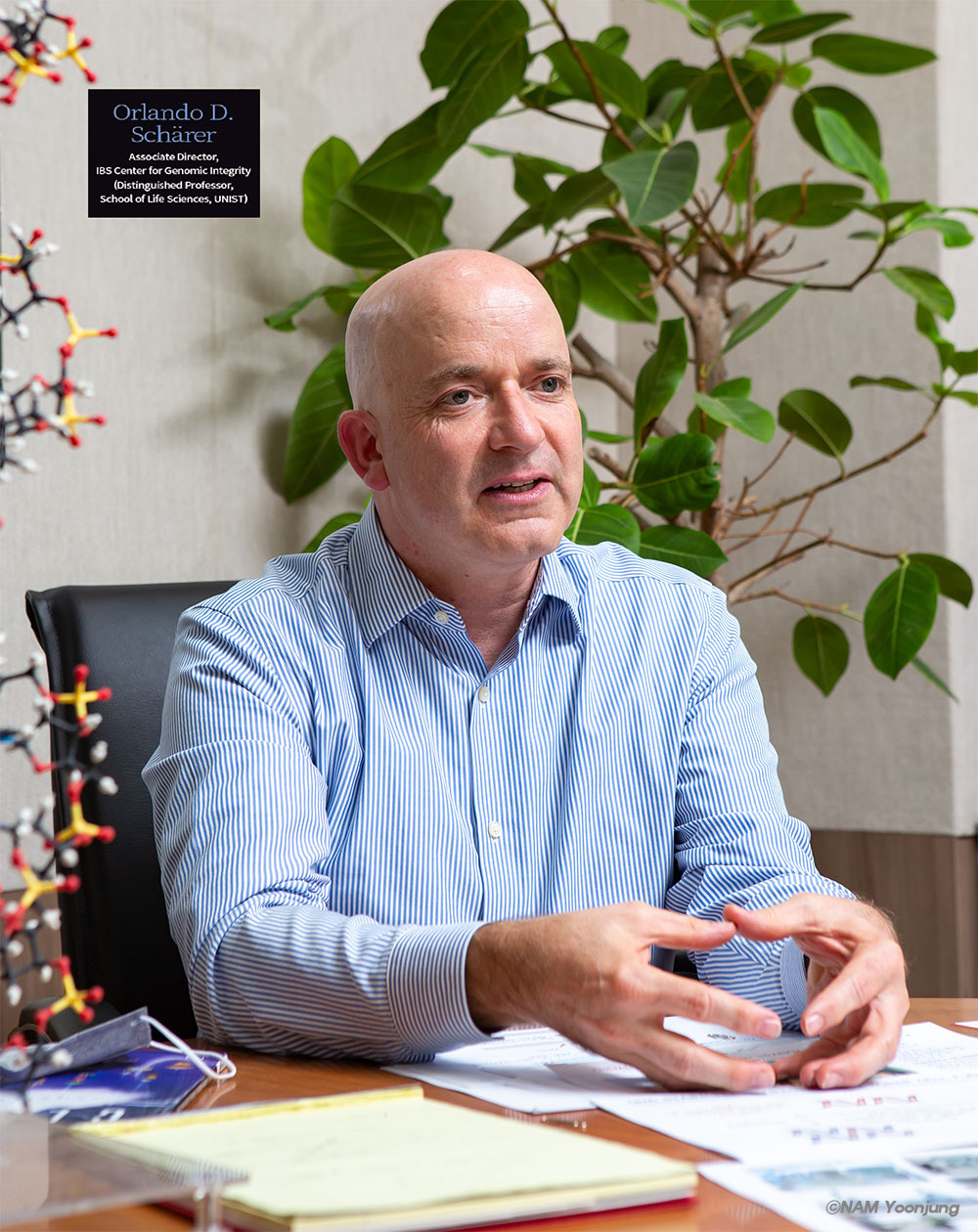 Orlando D. SCHÄRER has served as Associate Director of the IBS Center for Genomic Integrity and Distinguished Professor at the School of Life Sciences of UNIST since 2017. He is a biologist and chemist researching cancer biology and DNA repair and has built his reputation at Harvard University of the US, ETH Zurich of Switzerland, etc.
What brought this eminent scientist to Korea? Schärer answered, "Korea's research capacity for science has grown drastically over the past two decades. The nation has emerged as a very influential country along with China and Singapore. Such countries with growing research capacity like Korea boast a favorable and inspiring environment for researchers."
While working as a researcher in the US in 2017, he heard the news that his fellow researcher in the genomic integrity field, MYUNG Kyungjae (Director of the Center), was preparing to open a new research institute in Korea. He took immediate interest in the possibility of establishing a world's leading genomic integrity research institute and hub in Asia and joined IBS.
Last year, he succeeded in verifying the motion of a protein along DNA, which recognizes DNA damage, jointly with the team led by Professor LEE Jail of UNIST. The research result was featured as a Breakthrough Article in the online version of Nucleic Acids Research on August 2nd, 2019.*
*Nayoung Cheon et al., "Single-molecule visualization reveals the damage search mechanism for the human NER protein XPC-RAD23B", Nucleic Acids Research, 2019, DOI: 10.1093/nar/gkz629
His team succeeded in verifying the one-dimensional motion of the protein XPC-RAD23B along DNA in real time using single-molecule spectroscopy, often dubbed "the DNA curtain technique". It was discovered that this protein diffuses along DNA via hopping and recognizes DNA lesions while bypassing protein obstacles.
DNA is easily damaged and deformed by UV rays and toxic substances but does not mutate easily because the human body detects and repairs damaged DNA to its original state. The repair process entails the involvement of diverse proteins. This research is evaluated to have opened up the possibility of treating many hereditary disorders incurred by DNA damage by uncovering that XPC-RAD23B recognizes DNA lesions and this initiates the entire repair process.
Schärer is currently searching for the method to repair DNA damage by chemically manipulating DNA. He is concentrating on studying the process through which DNA is damaged and repaired to find a therapy to target cancer cells.
As mentioned above, the human body has a system for repairing DNA damage. However, DNA mutation occurs in those genetically incapable of repair. The repetition of mutation can lead to cancer.
In order to tackle cancer at its root, it is vital to identify the method of repairing DNA lesions to the original state. Schärer is conducting research on ways to find mutated sites in the DNA sequence and repair mutation.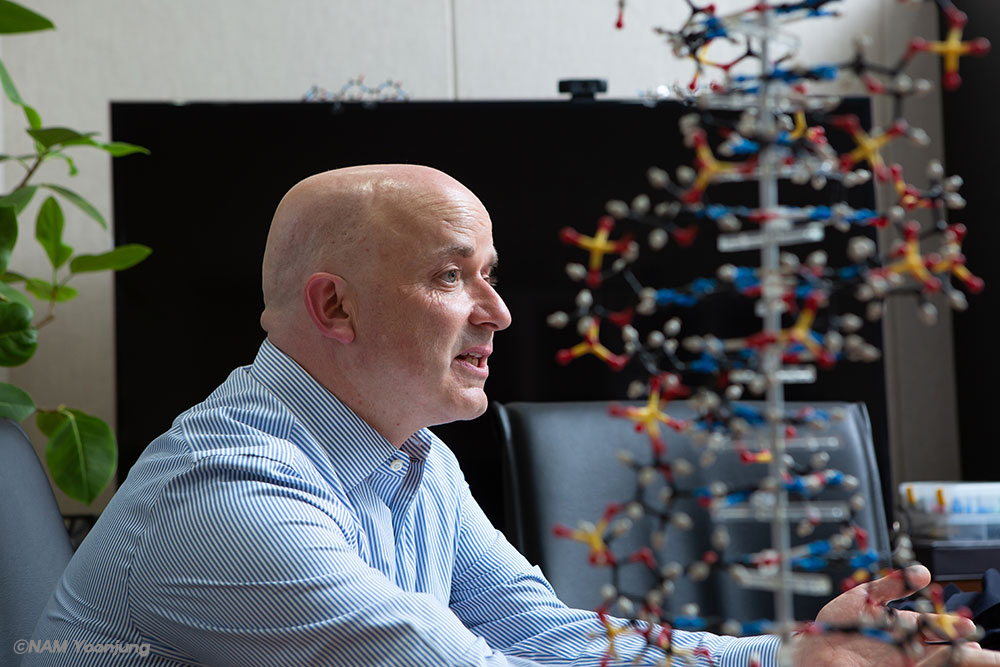 In accordance with the 2018 R&D Activity Survey conducted by the Ministry of Science and ICT, the ratio of R&D investment to GDP in Korea stands at 4.81%, which is the highest among OECD member states. The total amount of Korea's annual R&D expenses reaches KRW 85.7287 trillion (USD 77.9 billion), ranking fifth among OECD member states.
He said, "Researchers in the US, Switzerland, etc., are often found to perform well because they benefit from an environment that allows people from around the globe to easily gather and work together. IBS provides opportunities for students to stably focus on research, and thus outstanding students of different countries are highly interested in IBS."
In fact, his team members are from five different continents. He added, "Students of diverse cultural backgrounds inspire one another and lead to the growth of more innovative ideas. This is expected to have a positive influence on Korean students as well."