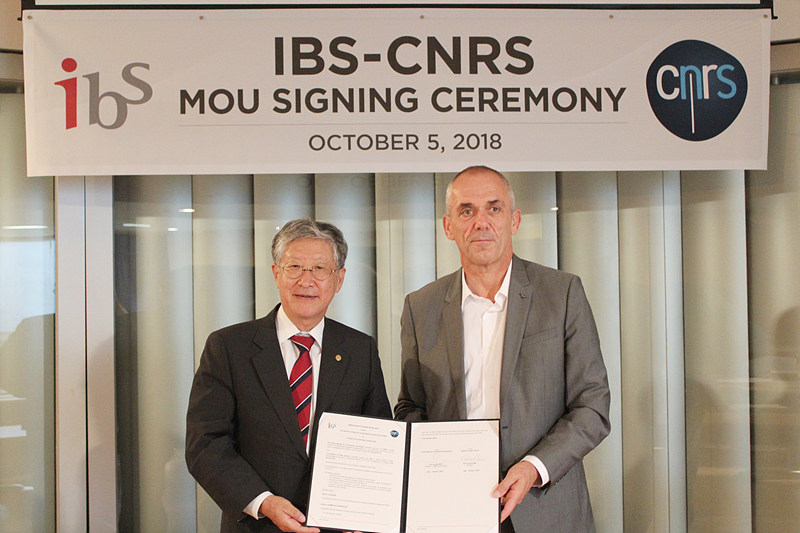 ▲ IBS President Doochul Kim with CNRS President Antoine Petit
The Institute for Basic Science (IBS) and the National Center for Scientific Research (CNRS) have signed a Memorandum of Understanding (MOU) for scientific collaboration that will facilitate joint research activities, the exchange of personnel, joint academic events, etc. in the fields of quantum nanoscience and laser science.
Over the past five years, IBS and CNRS have formed close ties in mathematics and RNA research by co-organizing a series of academic conferences. Both institutions intend to strengthen the already-established partnership in basic science research through joint research activities in the new fields.
The IBS Center for Quantum Nanoscience (Director Andreas Heinrich) is to launch joint investigation with CNRS Centre Interdisciplinaire de Nanoscience de Marseille (CINaM).
The IBS Center for Relativistic Laser Science (Director NAM Chang Hee) will further scientific collaborations in quantum electrodynamics (QED) of strong field with CNRS Laboratory of Applied Optics (LOA).
IBS President Doochul Kim says, "The signing of the MOU is quite significant in that IBS and CNRS, two national research institutions pledge to make joint efforts in advancing basic science," "IBS and CNRS will build on this new MOU to accelerate their investigation into scientific breakthroughs," he notes.