IBS, in close collaboration with one of its centers (IBS Center for Climate Physics), will be launching a new supercomputing facility at its headquarters in Daejeon in early 2019. The new supercomputer will provide high-performance capabilities for IBS to advance the numerical simulation capabilities in the fields of chemistry, life sciences, and physics. One of the key applications will be to study the physics of past and future climate change and sea level rise.
Becoming Korea's third fastest supercomputer, IBS' Cray XC50™ supercomputer will be paired with a Cray ClusterStor™ L300F parallel file storage system. Using 469 nodes of Intel Xeon Gold 6149 Processors with 192 GigaByte memory per node (90 Terabyte in total), the IBS new supercomputer can conduct up to 1.43 quadrillion floating point per second (1.43 PFlops). To put this number in human terms - it would take a single human 45 million years to complete the calculations that the new XC50™ can perform in one second.
The new supercomputing facility will boost scientific research at IBS centers in theoretical physics, computational science and climate physics. Specifically, the IBS Center for Climate Physics (ICCP), which designed the supercomputer, will expand the frontiers of earth system science by conducting climate model simulations with an unprecedented spatial resolution.
"By building a high-end supercomputing infrastructure with our addition of the Cray supercomputer and storage, we will be able to maximize performance of past-to-future and high-resolution global climate model simulations while significantly reducing research duration and costs," said Axel Timmermann, Director of ICCP. "With Cray's advanced system design and expertise in high-performance computing environments, our researchers are well-equipped to address some of the greatest challenges in oceanography, atmospheric science, glaciology and other areas."
The IBS Center for Underground Research and Center for the Theoretical Physics of Universe will utilize the new facility for data-intense research.
IBS President Doochul Kim says, "Once the production is complete, we will also open the new supercomputing facility to non-IBS users to promote scientific collaborations." "We hope that the IBS supercomputer will serve as a key driver for innovative breakthroughs," he adds.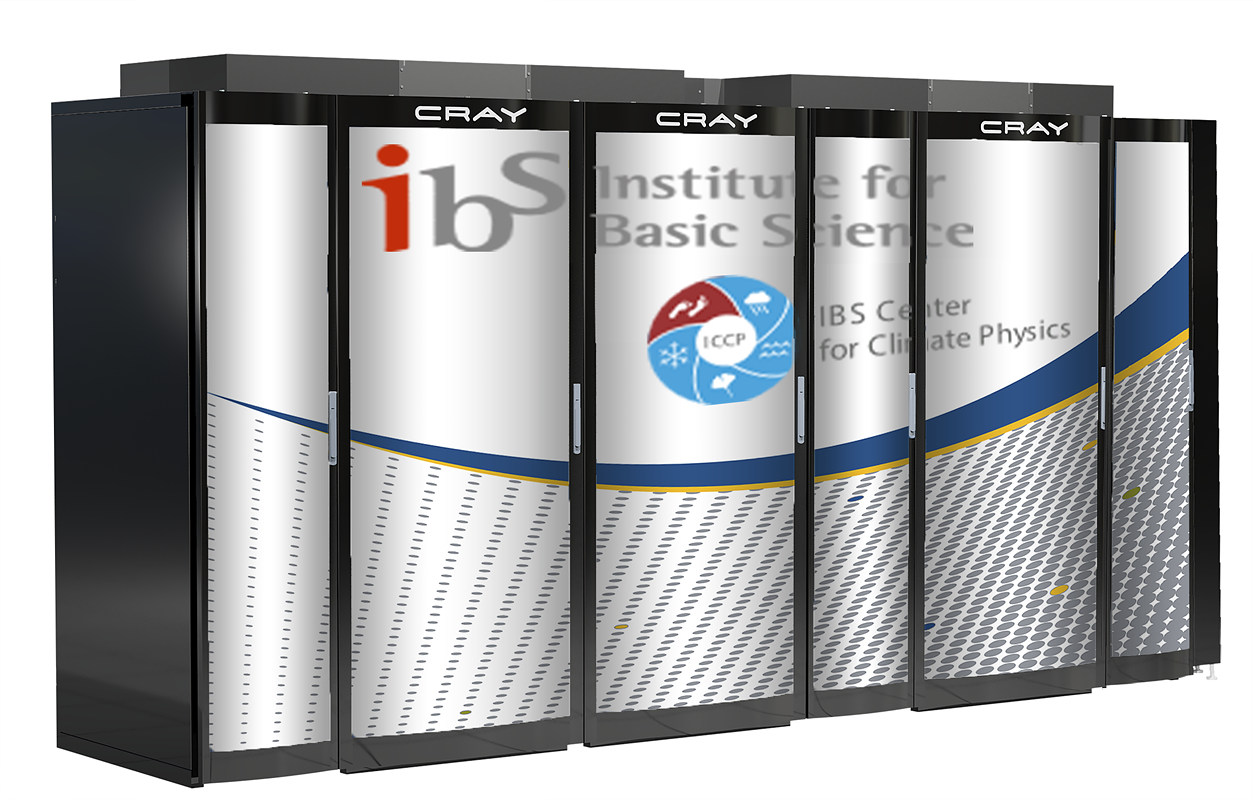 ▲ new supercomputing facility(CRAY)