Introduction
The IBS Complex, which is currently under construction at Expo Science Park, will serve as a global research hub for basic science with state-of-the-art research facilities and amenities. The construction budget is 326.8billion KRW. The total land area of the complex is 259.769m2.with the gross floor area totaling 112.740m2. The "Creative Band", "Community Field" and "Community Cluster" are the main features of the Complex design to establish a "Creative Research Platform".
On the complex, the community of IBS will be able to communicate and build closer networking. The complex will be established as a core part of a global science park in an urban area and organically intertwined with a HD Drama Town, a Science Complex, the Korea Institute of Patent Information, a Expo Memorial Park and a science culture & picnic area for the local community. This science park will facilitate communication between IBS and various parties including research institutes, universities, venture and small/medium size companies and local communities.
Creative Band: Meeting rooms, libraries and sport outlets aligned along a pathway that will utilize space, encourage communication and stimulate creativity.
Community Field: An open space where the minds of IBS will converge and exchange ideas.
Community Cluster: Cluster initiative that will promote communication among communities and facilities
Goal & Directions of Construction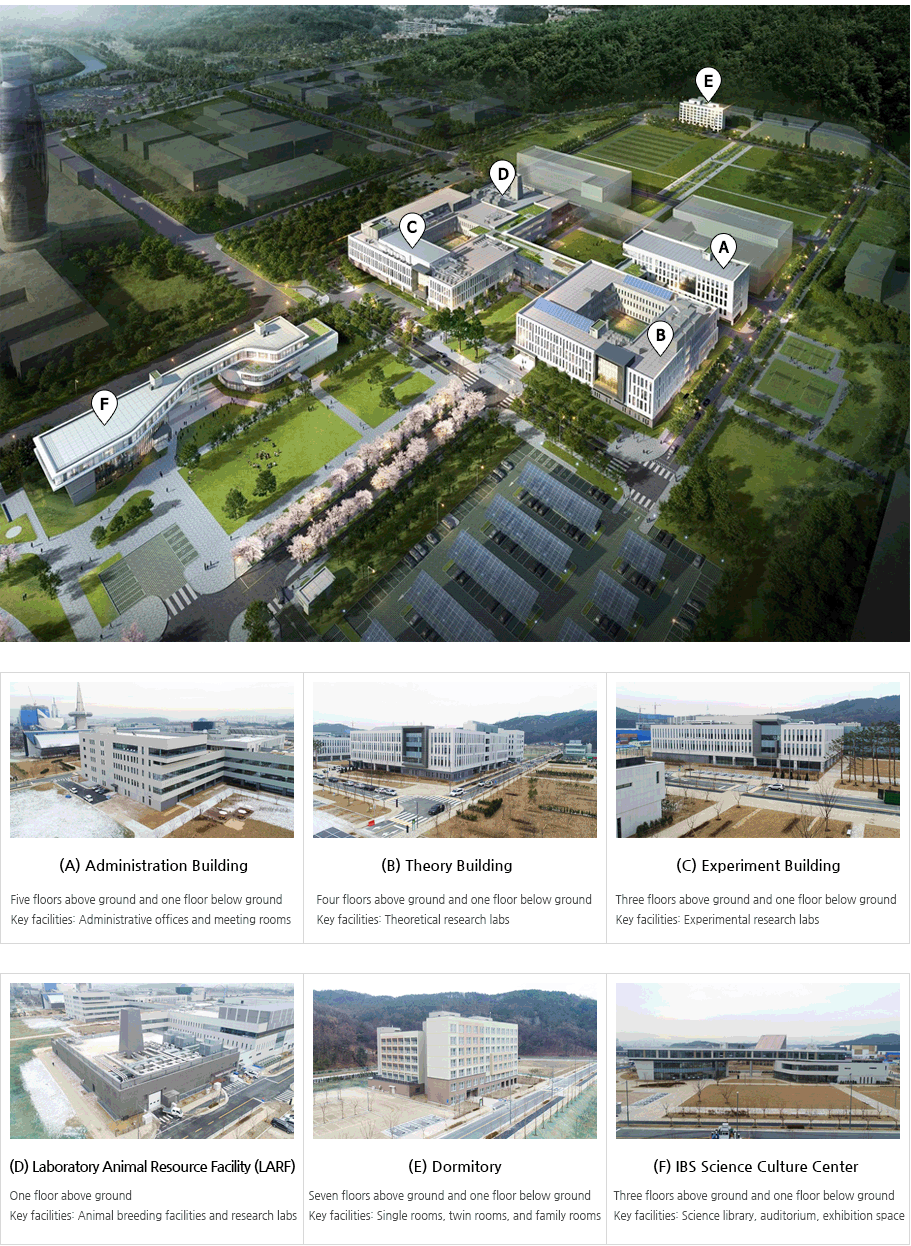 The Summary of the Plan
Scientific Advisory Board (SAB)
Category
Total Area
Gross Floor Area
Budget
Site/Location
Total
404,159㎡
240,240㎡
6,819Bn.(KRW)
-
IBS Complex
259,769㎡
112,740㎡
3,268Bn.(KRW)
Doryoung District in ISBB
(Daejeon city will provide the land.)
Campus Research Center
(KAIST,GIST,DGIST,
UNIST,POSTECH)
144,390㎡
127,500㎡
3,551Bn.(KRW)
Campus of 5 Designated Universities
(Each university will provide the land.)
Main Facilities
IBS Complex : Research facilities, administrative & communicative facilities, accommodation, amenities and utilities & additional facilities
Campus Research Centers : Research facilities
Construction Timeline
2014~2021 (8years) / 1st Phase('14~'17),2nd Phase('18~'21)
IBS Complex : 1st Phase for research and administrative facilities (~ 2017), 2nd Phase for research and administrative facilities (~ 2021)
Campus Research Centers will be constructed during the entire construction period in connection with the selection of centers.
IBS Complex
1st Design : 2015
1st Construction : 2016~2017
2nd Design & Construction : 2018~2021
Campus Research Centers
Design : 2018
Construction : 2019~2021
Content Manager

Construction & Planning Team : Min Kyungyoon 042-878-8156

Last Update

2016-08-18 13:08