100 GB Genome Analysis in 3 Hours
- New analysis tool speeds up CRISPR proofreading -
Researchers at the Center for Genome Engineering, within the Institute for Basic Science (IBS) in cooperation with Professor BAE Sang-Su at Hanyang University and the Deutsches Krebsforschungszentrum (DKFZ) have designed a quick and user-friendly web-based program to measure the accuracy of CRISPR gene scissors.
CRISPR is a widely-used technique to recognize a target DNA sequence in the entire genome, cut it and correct it. It is more efficient and easier to use than existing gene scissors, and it is expected to contribute to the development of treatments against hereditary genetic diseases and cancer. However, after reporting some cases of CRISPR-Cas9 off-target cuts, the accuracy of the CRISPR-Cas9 gene scissors has emerged as a very important area of study.
In 2015, the IBS research team published a technique, Digenome-seq, that can accurately detect all the locations in the entire genome cut by CRISPR. Digenome-seq was used to verify the accuracy of the different types of CRISPR-based gene editing techniques: the first CRISPR gene scissors (CRISPR-Cas9), a newer version (CRISPR-Cpf1), and the misspelling-correction method (base editor, CRISPR RNA-guided programmable deaminase).
In this study, published in Nature Methods, the researchers present a website that simplifies the analysis of Digenome-seq data. "Anyone with a computer connected to the Internet can use this tool easily, without downloading and installing complicated programs," explains Prof. Bae.
The complete genome analysis takes only three hours, because this tool skips the need to upload 100 GB of DNA data to a server.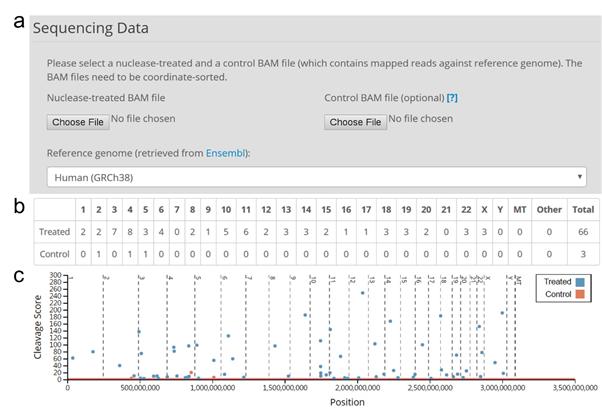 ▲ Website interface and output summary
Letizia Diamante
Notes for editors
- References
Jeongbin Park, Liam Childs, Daesik Kim, Gue-Ho Hwang, Sunghyun Kim, Sang-Tae Kim, Jin-Soo Kim & Sangsu Bae. Digenome-seq web tool for profiling CRISPR specificity. Nature Methods, May 30, 2017. DOI: 10.1038/nmeth.4262.
- Media Contact
For further information or to request media assistance, please contact: Mr. Shi Bo Shim, Head of Department of Communications, Institute for Basic Science (+82-42-878-8189, sibo@ibs.re.kr); Ms. Carol Kim, Global Officer, Department of Communications, Institute for Basic Science (+82-42-878-8133, clitie620@ibs.re.kr); or Dr. Letizia Diamante, Science Writer and Visual Producer (+82-42-878-8260, letizia@ibs.re.kr).
- About the Institute for Basic Science (IBS)
IBS was founded in 2011 by the government of the Republic of Korea with the sole purpose of driving forward the development of basic science in South Korea. IBS has launched 28 research centers as of January 2017. There are nine physics, one mathematics, six chemistry, eight life science, one earth science and three interdisciplinary research centers.