2018 Art Competition
The Art of Quantum Nanoscience
IBS-Ewha Center for Quantum Nanoscience will hold the Art Competition: The Art of Quantum Nanoscience in 2018.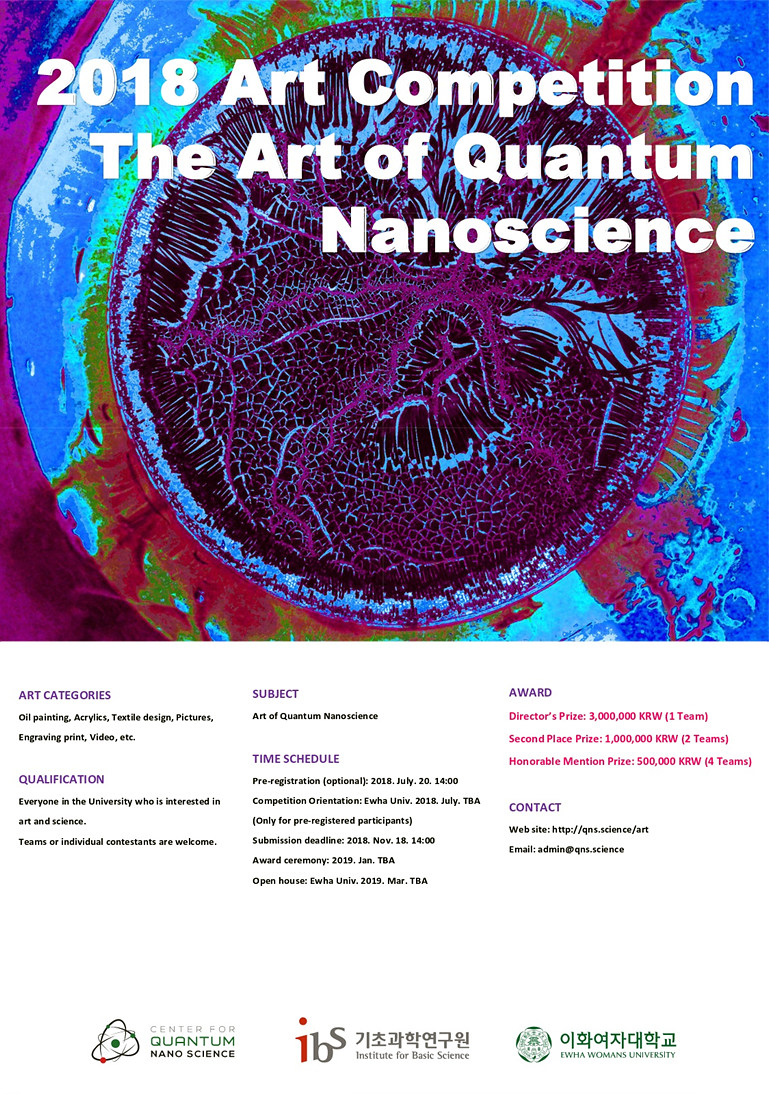 SUBJECT
Art of Quantum Nanoscience
ART CATEGORIES
Oil painting, Acrylics, Textile design, Pictures, Engraving print, Video, etc.
QUALIFICATION
Everyone in the University who is interested in art and science.
Teams or individual contestants are welcome.
AWARD
Director's Prize: 3,000,000 KRW (1 Team)
Second Place Prize: 1,000,000 KRW (2 Teams)
Honorable Mention Prize: 500,000 KRW (4 Teams)
TIME SCHEDULE
TIME SCHEDULE

| Date | Details |
| --- | --- |
| 2018. July. 20. 14:00 | Pre-registration (optional) |
| 2018. July TBD * | Competition Orientation (Ewha University) |
| 2018. Nov. 18. 14:00 | Submission deadline |
| 2018. Dec. | Evaluation |
| 2019. Jan. TBD* | Award ceremony |
| 2019. Mar. TBD* | Open house (Ewha University) |
* :Pre-registration is optional but the orientation is only available for pre-registered participants.
Please submit the attached file by e-mail for pre-registration. (admin@qns.science)
APPLICATION
The original work must be submitted before 14:00. 18th. Nov. 2018.
NOTIFICATIONS
1. Submitted entries will not be returned. No winner may be selected if there is no entries meet the screening criteria.
2. The intellectual property right of the submitted work belongs to the Center for Quantum Nanoscience (QNS).
3. The winning works will be exhibited in the Research Collaborating Building at Ewha Womans University and can be modified according to the needs of QNS.
4. When a serious disqualification, such as plagiarism, is found after the award is given, the prize may be forfeited and the prize money may be withdrawn.
5. Prize-related tax shall be paid by winners.
SUBMISSION
Address: Center for QNS, 317, Indursty-Academic Cooperation Building, 52, Ewhayeodae-gil, Seodaemun-gu, Seoul 03760.
Person in charge: Seokyong Choi
CONTACT
Homepage: http://qns.science/art
Email: admin@qns.science