Korean food delivery system is renowned to be fast and efficient. Scooters speed through the city to bring orders timely to your doorstep. Researchers from the Center for Integrated Nanostructure Physics, within the Institute for Basic Science (IBS, South Korea) have developed a low-temperature reaction, where a "chemical scooter delivery" can be used as a metaphor. A "sodium-scooter", namely Na2Te, transports tellurium to molybdenum disulfide (MoS2) and tungsten disulfide (WS2) monolayers. With the help of the scooter, sulfur atoms were replaced with tellurium. The process occurs at 525 °C, about 300 °C lower than previously achievable. This study, published in Nature Communications, is expected to facilitate the exploration of new properties in these 2D materials.
"We call it scooter, because it delivers quickly. MoTe2 molecules decompose to molybdenum and tellurium at high temperatures, but the scooter anchors telluride to MoS2 and acts as a catalyst that lowers the activation temperature of the reaction," explains YUN Seok Joon, the first author of the study.
Using this approach, the research team prepared semiconducting molybdenum ditelluride (2H-MoTe2), metallic 1T'-MoTe2, MoS2−xTex and WS2−xTex alloys. The conversion which began at the edges and grain boundaries of MoS2, was complete. 2H-MoTe2 formed near the edge and is favored at low temperatures, while 1T'-MoTe2 at high temperatures. In this method, the team could produce a diode with 2H-MoTe2 on the edge and 2H-MoS2 on the inner part.
The resulting materials had different bandgap (1.1 eV), and higher degree of valley polarization (~37%) than MoS2.


▲ Figure 1: New tellurization process for MoS2 developed in this study. a) A NaOH substrate and a MoS2 sample face each other and create MoTe2. b) Most likely, NaOH in the presence of Te vapors converts to Na2Te, which is scooted to the MoS2 substrate to exchange Te with S atoms. c) The Na-scooter reduced the energy required for the reaction.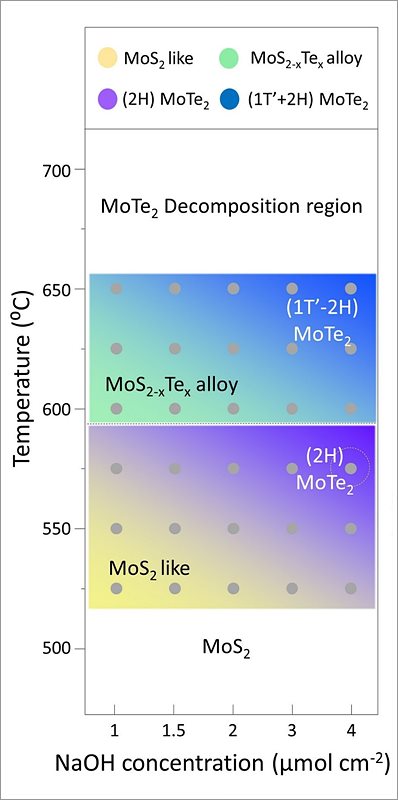 ◀ Figure 2: Tellurization rate in relation to temperature and Na content. Below the dissociation temperature of MoTe2 (700 °C), IBS scientists found out that semiconducting molybdenum ditelluride (2H-MoTe2) is favored at low temperatures, and its metallic version (1T'-MoTe2) at higher temperatures.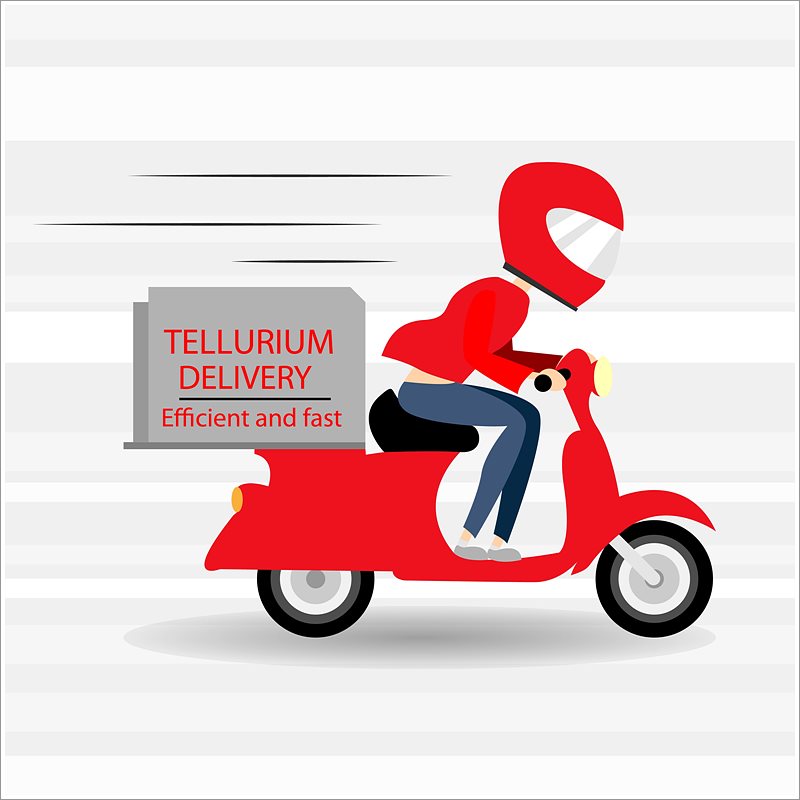 ▲ Figure 3: Cartoonized version of the Na-scooter (modified from Freepik.com)
Letizia Diamante
Notes for editors
- References
Seok Joon Yun, Gang Hee Han, Hyun Kim, Dinh Loc Duong, Bong Gyu Shin, Jiong Zhao, Quoc An Vu, Jubok Lee, Seung Mi Lee, and Young Hee Lee. Telluriding monolayer MoS2 and WS2 via alkali metal scooter. Nature Communications (2017). DOI: 10.1038/s41467-017-02238-0
- Media Contact
For further information or to request media assistance, please contact: Mr. Kyungyoon Min, Head of Communications Team, Institute for Basic Science (+82-42-878-8156, kymin@ibs.re.kr); Ms. Dahee Carol Kim, Global Officer, Department of Communications (+82-42-878-8133, clitie620@ibs.re.kr); or Dr. Letizia Diamante, Science Writer and Visual Producer (+82-42-878-8260, letizia@ibs.re.kr).
- About the Institute for Basic Science (IBS)
IBS was founded in 2011 by the government of the Republic of Korea with the sole purpose of driving forward the development of basic science in South Korea. IBS has launched 28 research centers as of January 2018. There are nine physics, one mathematics, six chemistry, eight life science, one earth science, and three interdisciplinary research centers.